A highly qualified, diverse, and inclusive workforce helps our economy grow and thrive.  In celebration of Women's History Month and International Women's Day, the tech industry is highlighting the vital contributions women are making to advance innovation and empowering the next generation of female leaders.  Learn more in this week's Tech At Work.
How Tech is Celebrating Women's History Month and International Women's Day
Uber shared how technology is unlocking economic opportunities for women globally.
Airbnb recognized women hosts and the many contributions they make to their communities.
Amazon amplified women-owned businesses, highlighting women at Amazon, and supporting women worldwide.
Meta is celebrating and supporting women small business leaders who are going beyond and succeeding.
Intuit is supporting women-owned businesses and highlighting how those shops are solving problems in new and imaginative ways.
PayPal is covering the fees when you donate in the PayPal app or on its website with 100 percent of contributions going to support causes that empower women.
Revolution talked with entrepreneurs from across its portfolio about the dialogues they want to drive as women scaling startups.
Box was named one of the top 100 companies for empowering women in tech and implementing effective Diversity, Equity, and Inclusion (DEI) initiatives in the workplace.
Nasdaq celebrated the stories of female pioneers and trailblazers working in business and tech.
RingCentral is embracing and committed to advancing gender equity.
Chegg highlighted two remarkable Chegg Changemakers who are making a difference by supporting and empowering women around the globe.
HireVue celebrated the women at the company who've connected hundreds of thousands of women to job opportunities across the world.
Women from Honeywell shared their perspectives on professional growth and charting their own career paths.
SVB shined a spotlight on female founders and highlighted efforts to promote women, Black, and Latinx individuals to leadership roles in the innovation economy.
Cisco showcased how leaders across the company are increasing equity through their work. 
Deloitte is committed to stopping everyday stereotypes and the assumptions that are still often made about women.
All month long, Google is spotlighting the creative, innovative, and trailblazing women in all industries through its products and highlighting ways to embrace equity in everyday life. 
Preliminary findings from Apple's new Women's Health Study show how technology can help women track and monitor their overall health.
Women across HP's Sustainable Impact partnership shared what gender equity means to them.
Motional recognized the women who are building the future of transportation.
The team at Bloom Energy offered their perspective on what gender equity means to them.
SAP reflected on the progress the company has made toward gender equity and set goals to ensure it remains a priority in the year ahead.
LexisNexis Risk Solutions shared how female members of its team began their careers in the tech industry. 
CDW employees across the world are embracing gender equity.
What's New in Tech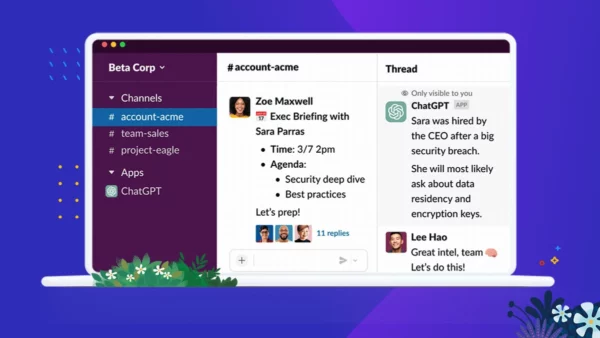 Salesforce introduced the ChatGPT app for Slack.  The app integrates ChatGPT's powerful artificial intelligence technology to deliver instant conversation summaries, research tools, and writing assistance directly in Slack to help make work more productive
Before You Start the Weekend

Ancestry celebrated the achievements of Mary Spencer, an entrepreneur who is credited with creating the first commercially sold candy in America.