Artificial intelligence (AI) is transforming how we live, learn, and work every day.  But it must be developed and implemented responsibly.  In this week's Tech At Work, see how tech is using AI to enhance innovation and improve services while ensuring it's deployed with trust and safeguards built into the design.
How Tech is Deploying Artificial Intelligence Responsibly to Enhance Innovation 
Google introduced Bard, a conversational AI service that uses information from the web to provide fresh, high-quality responses.  Google is committed to developing AI responsibly and will combine external feedback with internal testing to ensure Bard's responses meet a high bar for quality and safety.
Zillow launched a new AI-powered feature that lets users skip the filters and search the same way they'd describe their ideal home to a friend including features like layout, location, and condition.
Amazon's AWS is accelerating the training, fine-tuning, and deployment of large language and vision models used to create generative AI applications.
Zoom introduced Virtual Agent, an intelligent conversational AI and chatbot solution that will help organizations deliver better and faster web and mobile support.
Cisco highlighted the power of artificial intelligence and how it's helping spot cybersecurity threats in one place to then instantly and efficiently protect systems everywhere.
Google is highlighting Black history, showcasing Black creators, and partnering with Black businesses and tech innovators all month long.
Salesforce shared five guidelines for the responsible development of generative AI.
Meta recently showcased its Make-A-Scene AI research concept that allows people to create virtual landscapes or worlds with a combination of text and sketches as well as its AI translation model that can translate 200 different languages with state-of-the-art quality.
SAP is using artificial intelligence, machine learning, and analytics to improve its search algorithms, gain insights into customer behavior, and automate certain tasks to provide faster and more efficient support.
Uber partnered with Google to modernize its infrastructure and take advantage of innovations in cloud services, including data cloud technologies, artificial intelligence, machine learning, security, and microservices.
Pinterest's CEO discussed how the company is committed to using its platform—and the AI that powers it—to create more positive well-being outcomes. 
What's New in Tech 
Verizon Business to showcase immersive experiences at Mobile World Congress Barcelona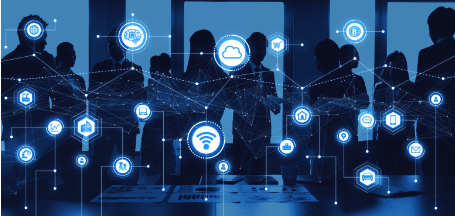 During next week's Mobile World Congress Barcelona, Verizon will showcase immersive solutions that demonstrate real 5G use cases and how the latest technologies are solving organizational challenges in the ever-evolving global business landscape.  Verizon will highlight how automating product recognition and inspection with computer vision and artificial intelligence can help improve the speed of returns processing and get salable products back into inventory quickly.
Before You Start the Weekend

Artificial intelligence impacts our everyday lives in different ways, from navigation apps and recommendation services to self-driving cars.  AI changes how we work and interact with the world.  Watch as Accenture explores AI, and how it will continue to impact our lives in the future.