Technology is making it easier for people to focus on their mental health.  Through innovative tools, resources, and initiatives, tech is providing solutions to help those who might be suffering and improve their overall well-being.  Learn more in this week's Tech At Work.

Pinterest is Supporting and Promoting Mental Health and Emotional Well-Being 
Pinterest is committed to advancing emotional well-being and elevating the voices and work of inspirational creators and purpose partners. Pinterest launched "A Whole Mood," a new Pinterest Haven focused on mental health.  The company also partnered with organizations like the Mental Health Coalition (MHC) to amplify informative and inspiring content and help users find ways to relieve stress and anxiety.
Salesforce is Addressing Mental Health Through New Program
Salesforce's B-Well Together program provides employees with opportunities to learn mental health tips, resources, and insights from speakers and well-being experts.  The 30-minute breaks are intended to address stress and anxiety and help overcome adversity.
Snap Launches New Tools to Address Mental Health
Snap announced several initiatives and educational tools to help Snapchatters look after their mental health and well-being.  These efforts include participating in the White House's first-ever Mental Health Youth Action Forum, serving as a Founding Partner of Mental Health Action Day, and adding new partners to Here for You, its in-app mental health portal.
Lyft is Partnering on New Initiative to Raise Awareness for Mental Health
Lyft is partnering with Valera Health, a tele-behavioral health service that provides comprehensive care for kids and adults with mild to severe mental illness, on a new initiative to raise awareness for mental health.  Together, they launched a campaign in New York and Los Angeles called "reasons to care."  In addition, eligible Valera Health patients are also receiving discounts from Lyft to help ease the financial burden of traveling to and from medical appointments.
Google Provides Tools to Develop and Achieve Digital Wellbeing
Verizon: Nine Ways to Prioritize Employee Mental Health
Doordash Promotes Mindful Eating and Mental Health Awareness 
Oracle Shares Tips on How to Manage Your Teams Mental Health
HIMS Offers Accessible Mental Health Services Online
‍
What's New in Tech
Meta is Launching AMBER Alerts on Instagram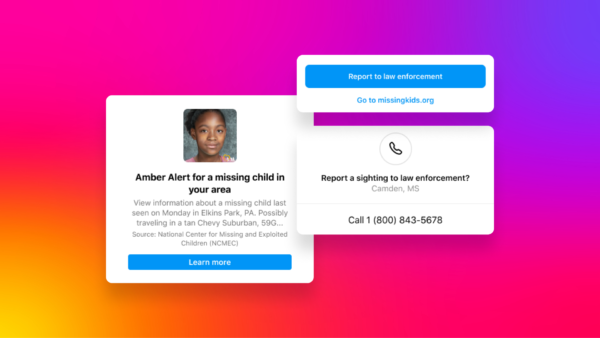 Meta is launching AMBER Alerts on Instagram, allowing people to see and share notices of missing children in their area.  The alert will include important details about the child such as a photo, description, location of the abduction, and any other available information.  People can share the alert with their friends to further help the search and raise awareness.
What We're Saying
TechNet Statement on the Revised American Innovation and Choice Online Act in the Senate
TechNet Statement on the Launch of an Indo-Pacific Economic Framework

Before You Start Your Weekend
Ever wonder what goes into making some of the most iconic sounds and music from our favorite movies?  Apple spotlights the team of creators who collaborate to make the music we hear on screen.  From field recording and Foley to sound design and mixing, these artists reveal their process, showing us how they bring to life sounds from the Star Wars universe and beyond.