Technology powered America during the pandemic and remains essential as companies and employees shift to a hybrid work model.  Technology allows employees to remain productive and connected no matter where they're working from.  Now, the tech industry is leading the way by solving the challenges and embracing the opportunities that this new era of hybrid work creates.  Learn more in this week's Tech At Work.

Airbnb Employees Can Live and Work Anywhere
Airbnb is allowing employees to live and work anywhere and is partnering with destinations to help them attract remote workers.  The company is giving employees the flexibility to do what's best for them and their families.  To connect and collaborate in person, Airbnb will conduct regular team gatherings, off-site meetings, and social events to bring people together.
Zoom Offers Tips on How to Adapt to the Era of Flexible Work
Zoom recently hosted its Work Transformation Summit.  During the event, leading organizations offered insights into how they are using technology and new strategies to elevate the employee experience, retain talent, reimagine the workspace, and drive better customer experiences during the new era of hybrid work.  Some of the insights included leaning into work-life integration, leveraging technology to streamline operations, and fully embracing flexibility and freedom of choice.
Cisco's Global Hybrid Work Study 2022
Cisco released a study exploring hybrid work and ways to improve employee arrangements and experiences.  The study found more than three-quarters of respondents believe hybrid and remote working has improved all aspects of well-being, empowering employees to take care of their full selves, both their roles at work and beyond their jobs.  Sixty-two percent of employees also say their ability to work from anywhere impacts whether they will stay at a job or leave.
Deloitte Offers Tips to Make Hybrid Work for Everyone
A Deloitte study shows most people want a mix of working virtually and in person.  Deloitte has tips to make hybrid work for everyone include getting the technology right, not assuming a hybrid event is better than a virtual one, building trust and psychological safety for everyone, and communicating when the goal of a gathering is connection.
Pinterest Introduces PinFlex, a New Work Model for its Employees
Pinterest's new work model, PinFlex, provides employees the autonomy to live and work flexibly while prioritizing intentional in-person collaboration at its offices.  For work that can be performed anywhere, employees will be able to choose where to work whether from a Pinterest office, their home, or a virtual location.  Activities and projects that are best done in person will take place at a Pinterest office with the company covering travel and expense costs for employees who live outside of a commutable distance.
Accenture's Guide to "Smart Work Anywhere"
Salesforce: How the Hybrid Workplace Will Reshape Work in 2022
Amazon Offering Flexibility for Remote Work 
Meta Workplace Connecting Remote and Hybrid Teams
Uber Returns to Work with Hybrid Model 
Lyft Announces Fully Flexible Workplace
‍
What's New in Tech
Cisco Webex Now Available on Apple CarPlay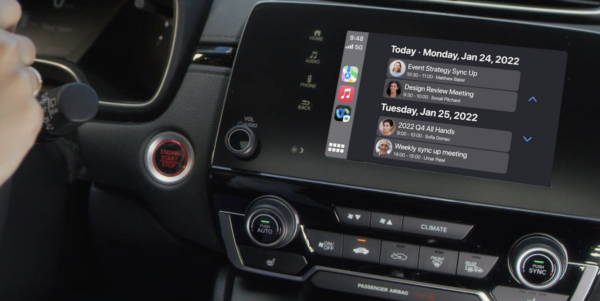 With the hybrid work model here to stay, Cisco has announced Move to Mobile, a seamless transition from desktop to the iPhone through Apple CarPlay.  Now, people can start a Webex meeting on a desktop from home and easily transition to their iPhone in their car without disruption.  You can also transition from your phone to a Webex device in a meeting room at the office.
What We're Saying
TechNet Welcomes Pinterest as a New Member
Solving America's Workforce Crisis: Attracting and Retaining the World's Best Talent
TechNet Statement on Congressional Hearing on Legislation Establishing a Federal Privacy Standard
TechNet Statement on Senate Hearing on Strengthening Our Workforce and Economy Through Education and Immigration
TechNet Sends a Letter to the House Committee on Energy and Commerce on the American Data Privacy and Protection Act
TechNet Statement on the WTO's 12th Ministerial Conference
Before You Start Your Weekend
Dr. Jane Goodall and actress Rebel Wilson discussed the importance of protecting our planet's forests.  HP plans to plant and protect up to one million trees this spring.  Watch to learn more.