This week is National Data Privacy Week and a reminder of the need for a federal privacy law.  Since 2018, 43 states have introduced 133 different, often conflicting, privacy laws.  This growing patchwork is confusing consumers, having a chilling effect on our economy, especially for small and medium-sized businesses that are struggling to keep up with an ever-changing compliance landscape, and putting our data at risk from bad actors.  As the number of attacks continues to increase, see how tech is enacting new measures to keep our data safe and identify and prevent attacks before they happen in this week's Tech At Work.
How Tech is Working to Protect Our Data 
Cisco's 2023 Data Privacy Benchmark Study found the average company spent $2.7 million on privacy in 2022, up from $1.2 million three years ago, with small organizations (50-249 employees) spending $2 million, up 17 percent.
Zoom is designing security and privacy offerings to equip customers with the tools needed to protect data privacy in any work environment.
One of Honeywell's Top Building Technology Trends for 2023 is to embed and integrate cybersecurity into digital innovation.
Google introduced Confidential Space, a way to safely manage digital assets more securely and efficiently, as well as new advancements in cybersecurity to make search safer.
Meta announced new features for end-to-end encryption on Messenger that will help keep conversations private, safe, and secure.
In a recent Salesforce podcast, the company's security experts shared how to safeguard data and business operations.
In collaboration with Accenture, the World Economic Forum's Global Cybersecurity Outlook 2023 examined the cybersecurity trends that will impact our economies and societies this year and offered tips on how organizations can keep data secure.
Pinterest introduced a new pilot program to create a secure third-party space where brands can combine their data with Pinterest's platform data to provide aggregated insight into ad performance and ensure neither party's personal identifiable sales and campaign data is visible to the other.
Dell is hosting a webinar with cyber experts to help organizations learn how attacks are evolving, areas to evaluate, and ways to improve customers' long-term cyber resilience.
What's New in Tech 
TechNet Executive Council Member and SVB President and CEO Discusses Key Trends Impacting the Innovation Economy on CNBC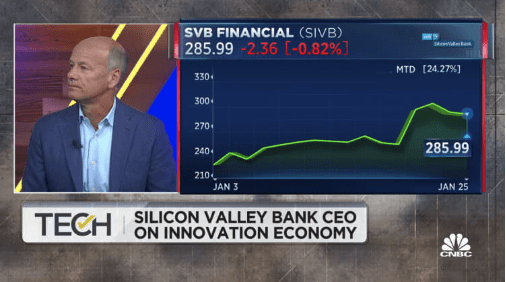 Greg Becker, TechNet Executive Council member and President and CEO of SVB, joined CNBC's 'TechCheck' to share his thoughts on the year ahead and the key market trends impacting the innovation economy.
Before You Start the Weekend

Paypal is improving the checkout experience.  See how they're helping grocery stores, like Giant Eagle, innovate and focus on their mission of purpose beyond profit.