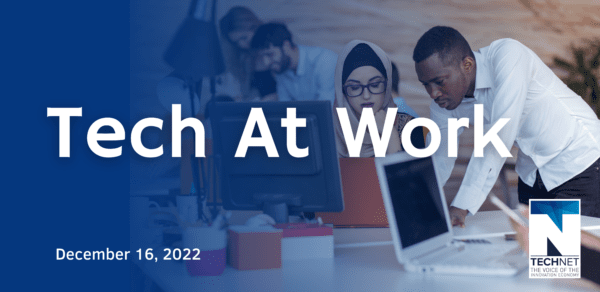 Technology plays an essential role in powering our economy, training our workforce, and helping all members of our communities thrive.  This year, tech also played a key role in defending democracy abroad and supporting Ukrainians following the unprovoked attacks on their country.  You can read more about how tech aided Ukraine here.  Across the U.S. this year, tech worked to improve our lives and strengthen America by enhancing our talent pipeline, building a more sustainable future, keeping data and networks secure, supporting small businesses, increasing our global competitiveness, advancing the future of mobility, and making education more equitable.  Here are just a few of the many examples.
How Tech is Strengthening America's Talent Pipeline
Google launched a $100 million Career Certificates Fund to help more than 20,000 American workers and potentially drive $1 billion in wage gains across the country.
AT&T created new economic empowerment opportunities, investments, and initiatives for the next generation of women leaders, especially in STEM careers.
Amazon awarded $10 million in computer science scholarships to 250 deserving students across the country, helping them gain hands-on, practical work experience.
Coursera launched Career Academy for Institutions, a career training academy that enables businesses, government, or academic institutions to give individuals the opportunity to learn skills for high-demand, entry-level digital jobs.
Toyota announced a $110 million education and community-focused program that will create educational STEM programs and improve access to opportunities where barriers exist.
SAP sponsored a skills development lab to equip young women with the skills to succeed in tech roles and pursue STEM careers.
How Tech is Building a More Sustainable Future
Bloom Energy opened a $200 million state-of-the-art manufacturing plant to produce gigawatts of clean power and green hydrogen.
Honeywell co-developed a zero-emissions electric motor to power the first all-electric vertical take-off and landing jet.
SVB
committed
  at least $5 billion in loans, investments, and other financing to support clients' sustainability efforts.
Meta and Google were among the companies to commit $925 million to address climate change and accelerate the development of technological carbon removal.  
HP awarded $100,000 in prizes to fund youth-led solutions that help address sustainability challenges, particularly related to the reduction, reuse, and recycling of plastics and packaging.
VMware was recognized for its commitment to driving a more sustainable future.
How Tech is Advancing Diversity, Equity, and Inclusion
PayPal invested $25 million to address racial equity through affordable housing.
Credit Karma combated bias in artificial intelligence in the financial sector.
Etsy celebrated and spotlighted LBGTQIA+, Asian-Owned, and Afghan refugee-Owned businesses.
LexisNexis Risk Solutions empowered LGBTQIA+ Employee Resource Groups to provide employees with peer-to-peer support.
Pinterest announced a multi-year, multi-million dollar partnership with /dev /color to help advance Black talent in tech. 
TechNexus celebrated women in venture capital and tech.
Turo is committed to facilitating a more inclusive peer-to-peer marketplace.
Visa advanced inclusive, equitable, and sustainable economic growth. 
How Tech is Keeping Data Secure
Box announced new malware deep scan capabilities in Box Shield to combat ransomware.
Zoom created a wide variety of easy-to-use features and resources to help safeguard information, keep users secure, and make security accessible to everyone.
Nasdaq's Anti-Financial Crime Solutions helped detect and prevent criminal activity across industries.  
Oracle launched the Oracle Threat Intelligence Service to provide integrated and actionable threat intelligence across many different sources.
Meta identified emerging threats in Ukraine and responded quickly to protect accounts including users being able to lock their profile and removing the ability to see and search friends lists to prevent being targeted.
Onfido launched Motion, a next-generation biometric liveness solution, to help businesses more quickly and efficiently automate customer onboarding while significantly reducing their fraud exposure.
RingCentral announced a comprehensive end-to-end encryption solution for message, video, and phone. How Tech is Supporting Small Businesses and Startups
Accenture partnered to launch the "unreasonable CHANGE" Program for sustainable high-growth startups.
Carta offered tax planning advice for small businesses.
CrowdSmart shared why innovation and artificial intelligence are essential for business growth.
Deloitte pledged to invest $1 billion in diverse suppliers, including $200 million in Black-owned suppliers, by 2025.
Nextdoor partnered with the NAACP to award $5,000 grants to small businesses that are at least 51 percent owned by a person of color.
Indeed launched a $50 million Small Business Hiring Fund.
Intuit offered several tips to help new businesses thrive.
John Chambers, TechNet Co-Founder and Founder of JC2 Ventures, shared what it means to have an entrepreneur mindset.  
Revolution invested in startups focused on sustainability. 
Mastercard Strive Community awarded $1 million to digital and data-first projects to strengthen small businesses. 
How Tech is Expanding Opportunities for U.S. Workers
Getaround partnered with Uber to help people without a car make money on their own schedule. 
Snagajob helped workers gain more leverage and opportunities in the labor market by allowing applicants to easily apply for jobs, move directly to the interview phase, and select interview times that work best for their schedule.
Airbnb gave employees the autonomy to live and work from anywhere around the world. 
How Tech is Increasing U.S. Global Competitiveness
GM invested more than $7 billion and created 4,000 jobs across four Michigan manufacturing sites to significantly increase its battery cell and electric truck manufacturing capacity. 
A FWD.us study found that 100,000 international graduates of U.S. colleges and universities each year would like to stay and work in the U.S., which could add $233 billion to the U.S. economy and reduce STEM-related talent shortage by about a quarter this decade.
Samsung expanded semiconductor manufacturing in Texas.
Apple's App economy supports more than 2.2 million jobs in the U.S. and allows entrepreneurs to innovate, create new businesses, and reach new customers.
How Tech is Advancing the Future of Mobility
Aurora released the second version of its Aurora Driver Beta 2.0 to unlock advanced autonomy capabilities for its next-generation truck and ride-hailing fleets.
Waymo introduced autonomous rides to employees in San Francisco and Phoenix with a safety driver behind the wheel.  
Lyft and Motional delivered the first rides in Motional's new all-electric autonomous vehicle.
Cruise expanded its self-driving delivery pilot program with Walmart in Arizona.  
Wejo made data available in the first-of-its-kind operating system for electric vehicle infrastructure.
Nuro shared the challenges of deploying autonomous vehicles at scale and how to validate an autonomous vehicle to safely deploy on public roads.
Zoox became the first company to self-certify a purpose-built, fully autonomous, all-electric passenger vehicle to Federal Motor Vehicle Safety Standards. 
How Tech is Making Education More Accessible
CDW helped teachers and students connect through new platforms and tools to minimize e-learning disruptions and ensure equity of access for students.  
Ancestry's AncestryClassroom offered educators free access to classroom resources, professional learning tools, and Ancestry historical record collections to help students find their personal place in history.
Chegg provided students with tools and resources for affordable learning. 
Zoom helped schools and universities create an intuitive hybrid classroom experience through integrated audio, video, and wireless screen sharing.
Cisco committed to train 200,000 students over the next three years and offered free-entry level certification through its cybersecurity learning pathway.
Salesforce donated $1 million to help support equitable education in Los Angeles.How Tech is Improving Patient Care
Verizon Business enhanced access to new data sources and added partner integrations for BlueJeans Telehealth to help improve the overall quality of virtual care. 
Hims offered access to anonymous mental health support from the comfort of your home.
1-800 Contacts announced the formation of a new company focused on B2B Vision Technologies and Services. 
Dell shared a new machine learning model that could help improve outcomes for heart transplant patients.
How Tech is Making a Difference in Our Communities
Nuro's autonomous vehicles helped deliver food to those in need. 
GrubHub announced $20,000 grants to 20 drivers who helped their communities. 
Amyris partnered with the World Wildlife Fund to help protect biodiversity and endangered habitats.
DoorDash partnered with 18 mayors across the country to broaden food access in their communities. 
eBay helped shoppers donate to charities during their purchase while also allowing sellers to donate up to 100 percent of proceeds to a charity of their choice.
Instacart launched Community Carts, an easy way to donate items directly through the Instacart app to local Feeding America food banks.
Shipt invested in and rolled out a number of actions to ease the burden of high gas prices for Shipt shoppers.
Snapchat launched "Family Center" hub, a feature that allows parents and guardians to monitor their child's messages on the app.  
Zillow's HBCU Hackathon awarded cash prizes to students attending Historically Black Colleges and Universities (HBCUs) who developed and pitched a tech solution to make finding a home more accessible.
Comcast helped connect low-income families to the internet by creating more than 1,000 WiFi-connected "Lift Zones" in community centers nationwide. 
Through a partnership with the Red Cross, GoPuff donated food to those impacted by Hurricane Ian. 
Uber and DoorDash partnered to help underserved communities by offering free, same-day delivery of COVID treatments directly to the doorsteps of anyone who lives within 15 miles of a Walgreens.