The tech industry understands that helping our planet thrive is crucial to stopping climate change. Working to slow global temperature rise, tech companies have implemented innovative solutions from eliminating single use plastic to using wind energy to buying electric vehicles. Tech companies are also making pledges to reduce or eliminate carbon emissions. The industry's hard work to minimize negative environmental impacts will benefit us all.
How Tech is Combatting Climate Change
Progress on Microsoft's Goal to Be Carbon Negative by 2030 (Microsoft)
Microsoft will be carbon negative by 2030 and remove from the environment more carbon than we have emitted since our founding by 2050
The Climate Pledge and We Mean Business Partner to Reduce Carbon Emissions Worldwide (Amazon)
Amazon and the We Mean Business coalition are partnering to encourage companies to adopt more ambitious carbon emission reduction goals.
Alphabet Issues Sustainability Bonds to Support Environmental and Social Initiatives (Alphabet)
Today, as part of a $10 billion debt offering, Alphabet have issued $5.75 billion in sustainability bonds, the largest  green bond in history.
Apple Commits to be 100 Percent Carbon Neutral for its Supply Chain and Products by 2030 (Apple)
Apple's new commitment means that by 2030, every Apple device sold will have net zero climate impact.
Lyft's Commitment to 100% Electric Vehicles by 2030 (Lyft)
Lyft, in collaboration with Environmental Defense Fund, is announcing its commitment to reach 100% electric vehicles on their platform by 2030.
Cisco Completes First Wind Energy Project (Cisco)
This is Cisco's first wind energy and our third overall long-term renewable energy contract.
A Closer Look at Facebook's Commitment to Sustainability (Facebook)
Clean, Renewable, Limitless (AT&T)
‍Long-Term Sustainability Goals (Nasdaq)
‍Sustainable Impact Report (HP)
Shrinking Our Footprint (Dell Technologies)
Building More Sustainable Operations (Comcast)
What's New in Tech
From space to the Gulf of Mexico: Watch SpaceX's capsule make a historic splashdown (The Washington Post)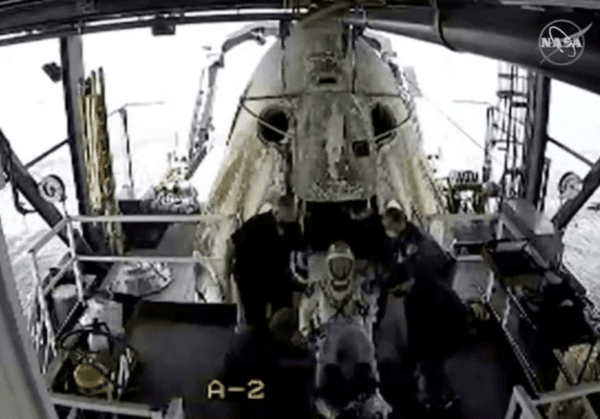 Astronauts Doug Hurley and Bob Behnken splashed down off the coast of Pensacola, Fla., on Aug. 2, completing the first manned mission of NASA's commercial crew program.
What We're Saying
· As the pandemic derails the economy, Congressman Phillips and Congresswoman Walorski proposes tax relief for startups to spur innovation. Read the press release here.
· TechNet Endorses IGNITE American Innovation Act. Read the press release here.
Before You Start Your Weekend
Learn why easy doesn't do it, and watch how HP delivers on bold promises for a sustainable future including 75% of single-use plastic in packaging being eliminated by 2025, zero deforestation caused by HP brand paper, and 700,000 pounds of ocean-bound plastic recycled for use in HP products. (HP)