Washington, D.C. – Marking National Data Privacy Week, TechNet, the national, bipartisan network of innovation economy CEOs and senior executives, highlighted the costs a 50-state patchwork of privacy laws would have on the U.S. economy. The following can be attributed to David Edmonson, TechNet's Vice President of State Policy and Government Relations:
"Inaction by Congress is allowing a patchwork of state laws to grow. So far this year, we've already seen 10 privacy bills filed across nine states, and since 2018, 133 privacy bills have been considered in 43 states. This approach is having a chilling effect on our economy.
"Businesses and consumers must navigate a set of rules that often conflict and vary from state to state. Without Congressional action, our economy will continue to suffer. Resources that could go towards innovation and creating jobs are instead being spent on compliance costs and legal bills.
"A federal privacy law would give businesses certainty. It would help them bring down costs, which would lower prices for American families while ensuring both businesses and consumers better understand their rights and responsibilities. We must end the privacy patchwork and pass a national privacy law."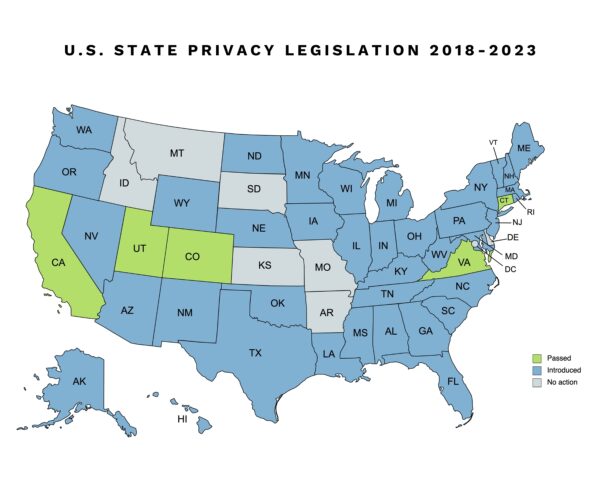 A 2022 study conducted by the International Technology and Innovation Foundation found that over a 10-year period, compliance with 50 different sets of privacy laws is projected to cost the economy more than $1 trillion, with more than $200 billion footed by small businesses.
National Data Privacy Week is an annual educational event to inform consumers, lawmakers, and business owners about the state of data privacy in America. This week, with partner organizations, TechNet will highlight the economic cost and the national and consumer security risks posed by the current lack of a federal privacy law. Building on the success of its #UnitedforPrivacy campaign, TechNet will bring to life the real-world effects of the status quo in data privacy.
Additional Background
As a result of a patchwork of state privacy laws, companies and firms have to devote resources to regulatory compliance. This leads to the reduction of investment in existing products and hiring or shifting the increased costs to consumers.
ITIF has estimated that overly restrictive privacy regulations in the United States could generate $104 billion in market inefficiencies, which would manifest as higher costs, lower productivity (for both organizations and consumers), and decreased innovation.
More than 83 percent of all voters, including 86 percent of Democrats and 81 percent of Republicans, ranked privacy legislation as a "top" or "important" Congressional priority.
Last year, Congress made significant strides in passing comprehensive federal privacy legislation. The American Data Privacy and Protection Act passed out of the House Energy and Commerce Committee by a bipartisan vote of 53-2. While the bill still needs further refinements to address several key issues before becoming law, this was a watershed moment for enacting a uniform federal standard.